Fred is a proud member of the Sublime
Class of 2014
, but he plans to break through class barriers and complete his degree in 2013.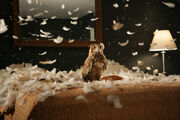 Biography
Edit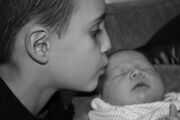 They say Fred was born on a cool Kansas evening in the summer of '73, the first-born son of Richard and Leslie Siegmund, but the evidence has been lost. All that we know for certain is that a person known as Fred has attended many schools and lived in many cities and slept on many couches and sat on numerous porches and attended many concerts and listened to many albums and read many books and written many papers and ran many miles and walked many roads and watched endless hours of TV, and, after many strange twists and turns, he acquired a BA in English from little (yet spunky) UT Tyler, a MA fromThe University of Oklahoma and is now working on his PhD.
He is luckily married to the most elegant, intelligent, and amazing woman, Bridgett, and he has two wonderful sons: Garrett (8) and Liam (7 weeks).
Interests
Edit
Book History
Romanticism
Victorian Lit
The Transatlantic Sphere
Theory
Favorite Theory Folks

Marx
Althusser
Benjamin
Adorno
Deleuze and Guattari
Lacan
Badiou
Agamben
Hardt and Negri
Current Plans and Projects
Edit
Siegmund is currently working on a study of transatlantic publishing in the 19th century. Additionally, he (with the help of Austin Johnson) is planning on starting the Agamben (and Friends) Reading Group. Finally, he would like to begin serious work on planning a Graduate Conference.
Community content is available under
CC-BY-SA
unless otherwise noted.