Austin Johnson is a member of the Ph.D Class of 2013.
Biography
Edit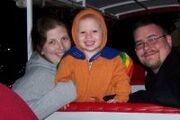 Johnson is a 2007
magna cum laude
graduate of
Ouachita Baptist University
. There, he studied a broad variety of periods and texts, ranging from the medieval period to the early twentieth century. Since coming to S.M.U., his interests have both narrowed and broadened, as he has come to focus more intensely upon the Early Modern period while growing to embrace a wider variety of theoretical positions.
Interests
Edit
16th-18th Century English Poetry
Religion and Literature
Science Fiction
Theoretical interests:
Publications/Presentations
Edit
Milton 400 Conference, St. Anselm University. " "Dark, Dark, Dark": Samson Agonistes and a Hermeneutic of Inspiration". 2008
Ouachita Baptist University Scholars Day. "Myth, Perception, and Misperception in Browning's 'Childe Roland'". 2007.
Sigma Tau Delta Conference. "Mingling and Making Souls: The Purpose of Sex in Donne's 'The Ecstasy'". 2007.
Classes Taught
Edit
ENGL 1301 (Fall 2008)
ENGL 1302 "Space, Location, and Identity" (Spring 2009)
Committees/Organizations
Edit
S.M.U. English Graduate Students Wiki (Admin)
Current Plans and Projects
Edit
Johnson is currently working on developing WegsSMU into a viable resource for graduate students at S.M.U.
In addition to attending the upcoming SMU-in-Taos summer seminar, he plans to use his summer to get a head start on his Early Modern reading, in addition to organizing the summer Theory Reading Group along with Fred Siegmund, which he hopes will feature rather more Badiou than Agamben.
He also plans to catch up on some science fiction by Philip K. Dick, specifically The Man in the High Castle.
Community content is available under
CC-BY-SA
unless otherwise noted.