Andrea Luttrell is a member of the PhD class of 2013.
Biography
Edit
In 2000, Andrea Luttrell graduated cum laude from
Barnard College
, Columbia University with a BA in English and a concentration in creative writing. She was awarded a MFA in fiction from
NYU
in 2002 where she served as editor-in-chief for the writing program's literary journal,
Washington Square
. Prior to entering SMU's PhD program, Luttrell worked in publishing at
Simon & Schuster
, Penguin Putnam and Random House. She also raised money and wrote grants for The Children's Nature Institute in Los Angeles, CA and for SMU's Central University Libraries and School of Education.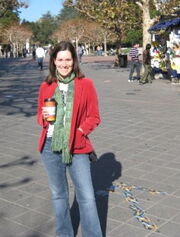 Interests
Edit
Her interests include:
Contemporary American Fiction and Poetry
Modernism
Feminist Literary Criticism
Courses Taught
Edit
Southern Methodist University
ENG 1301: First Year Writing
ENG 1302: Space, Location and Identity

New York University
V38.9815: Creative Writing - Introduction to Fiction and Poetry
Publications and Conferences
Edit
Le Den of Infamy, 2007
Painted Bride Quarterly, Issue 76
Fellowships and Awards
Edit
Tin House Fellowship to attend Summer Literary Seminars in St. Petersburg, Russia, 2003
Spring Fellowship, NYU Graduate Creative Writing Program, 2002
Committees and Positions
Edit
SMU's President's Commission on the Status of Women at the University, 2008 - present
SMU's Graduate Women's Organization Leadership Committee and Advocacy Chair, 2009 - present
Co-Editor of Erudition, SMU's English Department Newsletter, 2007 - present
Member, Sigma Tau Delta
Editor-in-Chief of Washington Square: The Literary Journal of NYU's Graduate Creative Writing Program, 2003 - 2004
Fiction Editor of Washington Square: The Literary Journal of NYU's Graduate Creative Writing Program, 2002 - 2003